"Help, I don't know which face yoga program to choose!" No problem, we're here to help!
When it comes to face yoga, you'll quickly find out there is a lot of programs and exercises online that promise all kinds of magical results. It's true, practicing face yoga does have a lot of impact on our health, well- being and appearance. Even though it's not yet as recognized and widespread as yoga, I hope one day it will be, and everybody will be able to reap the benefits.
However, it's easy to get lost and overwhelmed by the flood of options available on the internet. Some face yoga programs are good and effective, and some … not so much. It's essential that you educate yourself before choosing one because it can have a counter-effect of what you're trying to achieve. Face yoga should not be something you do out of fear of aging.
It should be something that helps you AGE WELL. This is also our main goal at Glowinface – to show you a different outlook and approach to aging. If you haven't done so already, check the transformations of these amazing women who achieved amazing results with face yoga.
Face Yoga is not only about removing all the wrinkles of the face and looking like a 20-year-old forever. It goes deeper, rejuvenating you from the inside out, balancing your emotions and internal organs through facial muscle movement. When you feel balanced, and in harmony with yourself, your face will radiate health, joy, and beauty.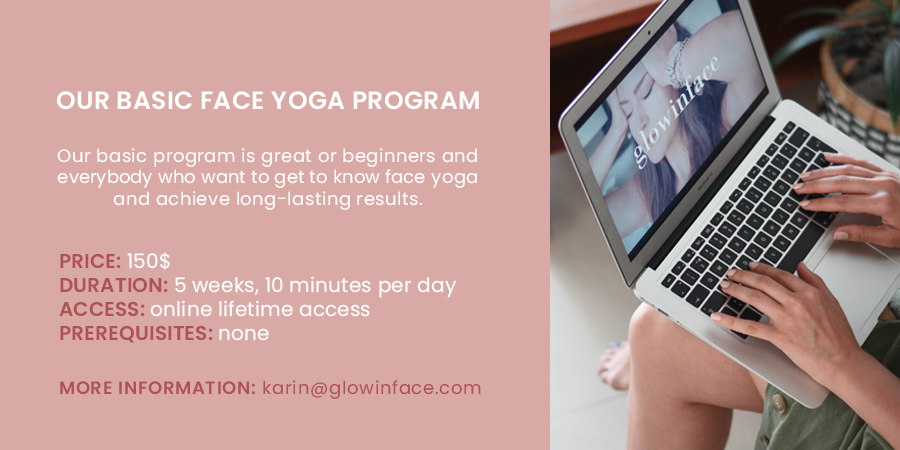 DURATION: 5 weeks, 10min/day
EXERCISES: 15
ACCESS: Lifetime
PRICE: 150$
Our basic face yoga program is great or beginners and everybody who want to activate ALL the muscles of the face. Usually, the exercises and programs you find online focus only on one particular area. Sadly, this is not enough to give you visible and long-lasting results.
Our basic program focuses on ALL face muscles and works for ALL PART OF THE FACE – no matter if you want to reduce your double chin or smooth the area around the eyes. The key is always to start activating bigger and heavier muscles first and gradually proceed to smaller muscles lying in the deepest muscle layers.
Our basic online program is 5 weeks long and contains 15 basic exercises. We explain how to do every face yoga exercise through a series of videos which stay with you for a lifetime. This way, you can always come back after you finish the 5-week program, and do face yoga whenever and wherever you want. We'll even briefly introduce you to face mapping.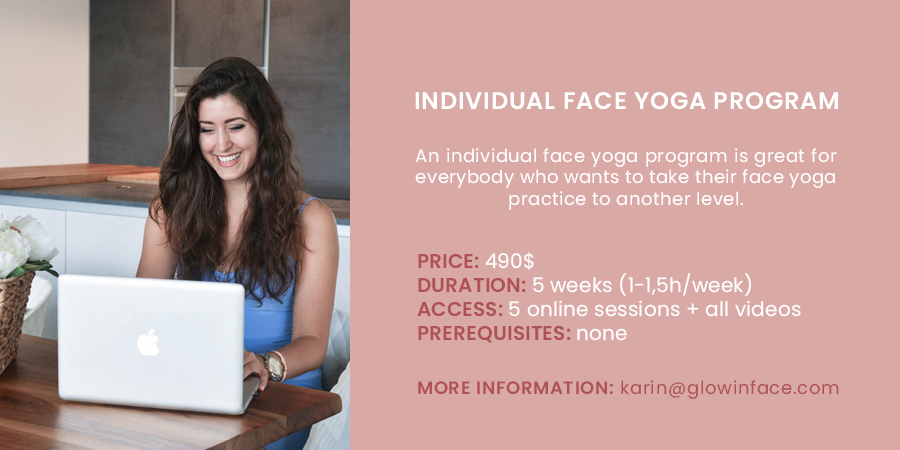 DURATION: 5 weeks (1-1,5h/week)
EXERCISES: 15 -18
ACCESS: 5 online sessions, lifetime access to all the VIDEOS
ADDITIONAL: 5 week-long personalized daily program
PRICE: 490$
An individual face yoga program is great for everybody who wants to take their face yoga practice to another level. If you want to improve one specific area on your face, this program enables you to get better results. You will be trained by Karin personally, and she'll craft a personalized training program unique to your face structure and aging type.
You'll first learn all about how your face ages, what is the meaning behind your wrinkles, and the effect of gravity on your appearance. Then you'll get professional guidance and practice exercises from your individualized program together with Karin. She'll tell you exactly which exercises are best for you and how to improve your workouts.
You'll also get more insights into Chinese medicine and face mapping. Under Karin's guidance, you will learn the origin of your skin problems (like wrinkles, discoloration, acne…) and which organ you should stimulate more to achieve balance.
If you have had any injury and have a facial disability, we first recommend you to get advice from your doctor and then choose an individual approach.
HOW DOES THIS PROGRAM DIFFERENTIATE FROM OUR BASIC ONE?
– 5 individual online sessions with Karin
– Checking and correcting your technique
– Individual facial analysis (gravitation type, points of concerns, face mapping)
– A 5-week personalized face yoga program
– Massage techniques and acupressure points to enhance your results
– Practicing mindfulness and visualization for better results
– All the exercises in a video form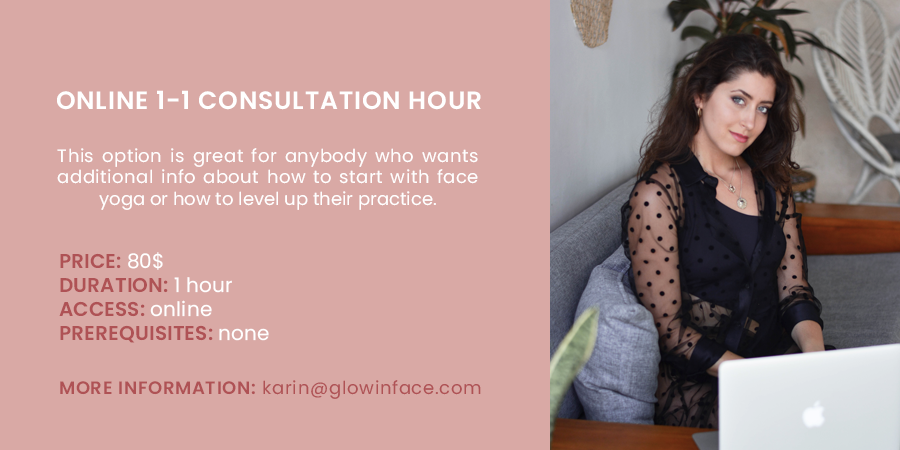 DURATION: 1h
ACCESS: online
PREREQUISITES: none
PRICE: 80$
This option is the best fit for anybody who wants additional info about how to start with face yoga or how to level up their face yoga practice. If you have questions about how to improve different parts on your face and how to go about it, this is the right choice for you.
If you are a complete beginner who wonders how to start with face yoga, Karin will analyze your face form and your facial concerns and guide you on how to start and what exercises to focus more on. She will answer all your questions about Face Yoga and prepare you for your face yoga journey.
There are a lot of people approaching us after accidents and strokes asking about advice on how to treat asymmetry and numb muscles. We strongly recommend 1-1 consultation hours to anybody who's experiencing any sort of medical issue, so we can get a proper look and suggest how to proceed. We also recommend 1-1 consultations for everybody who wants to start practicing face yoga and has facial fillers or botox.
You even can book a consultation with Karin if you've already done any of our online programs and would like more advice on:
– which exercises work the best for you
– how to plan your workouts
– any specific question regarding face yoga
– how to do exercises in the right way
LIVE WORKSHOPS AND COURSES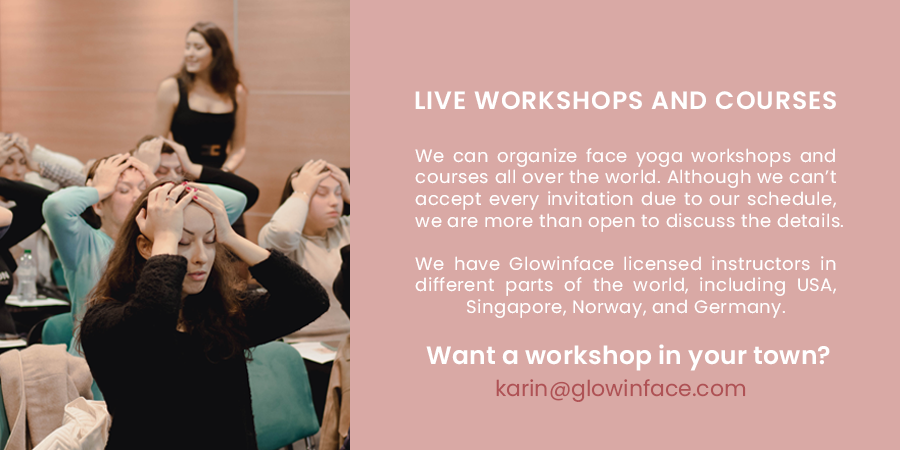 We can organize face yoga workshops and courses all over the world and introduce them to people in your town or area. Although we can't accept every invitation due to our schedule, we are more than open to discuss the details.
We have Glowinface licensed face yoga instructors located in different parts of the world, including USA, Singapore, Norway, and Germany.
If you would like to organize a face yoga workshop/course with us, you can contact us at [email protected]
FACE YOGA FACIAL TREATMENT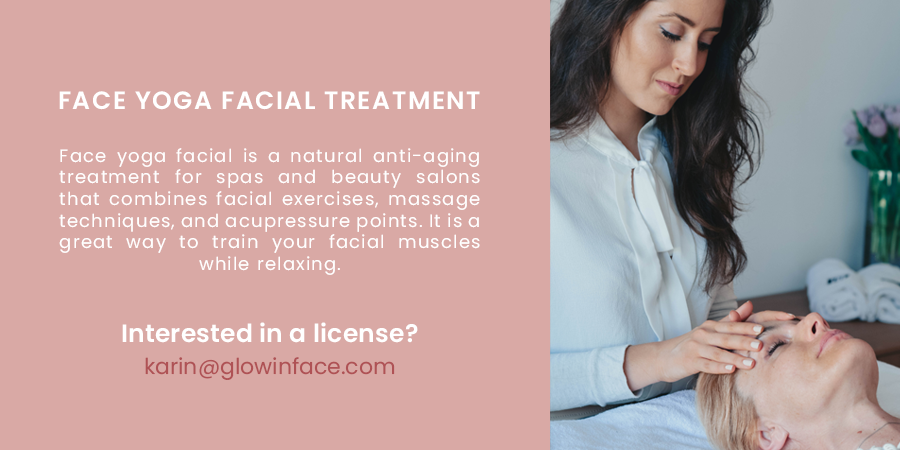 Our signature "face yoga facial" is one of our latest projects that Karin developed over the past few years. We have finally begun to offer it to beauty salons and spas who want to offer it to their clients. Glowinface face yoga facial is a natural anti-aging treatment that combines face exercises, massage techniques, and acupressure points. It is a great way to train your facial muscles while relaxing.
OUR LICENSE FOR BEAUTY SALONS & SPAS
Our vision is to bring face exercises to as many spas and beauty salons as we can. We want everybody to know how important it is to take care not only about our skin but muscles too!
If you are a spa or a beauty salon owner and would like to offer this treatment in your establishment, feel free to contact us at [email protected]
Where can I get a Glowinface face yoga facial?
If you just want to experience the treatment, you can currently visit the following spas and beauty salons:
UAE, Dubai: The beauty Oasis
BALI, Canggu: Goldust
SLOVENIA, Ljubljana: Lia Studio
Our signature face yoga facial treatment is suited for everybody no matter the age or previous experience with face yoga. If you are new to this kind of workout, you will feel safe in the hands of the spa therapist who will look after you and guide you through each and every exercise. Afterward, they'll even recommend the best exercises to do at home.
If you are already practicing face yoga, this treatment will serve as a cherry on the top. You only have to walk in the salon, lie down, and enjoy the experience of deep facial workout and relaxation with a face massage and acupressure at the end. This treatment can become a weekly treat you can reward yourself for all the hard work. The whole experience is super-pleasurable, rejuvenating, and uplifting. Even better, you'll feel and see the difference instantly!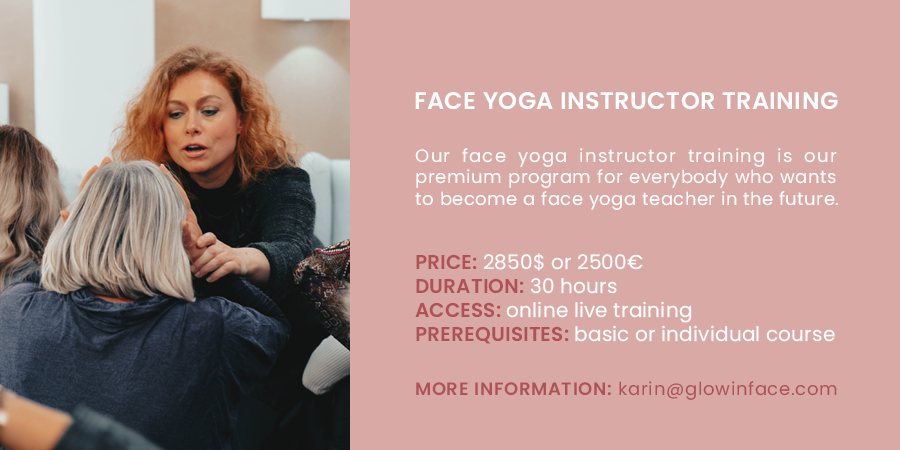 DURATION: 30h
ACCESS: online
PREREQUISITES: basic or individual Glowinface workout program
PRICE: 2850$ or 2500€
Our face yoga instructor training is our premium program for everybody who wants to become a face yoga teacher in the future. Face yoga awareness is growing with light speed, and we're extremely happy about that! More and more people are starting to realize it's important to train our faces as well, and that gives you a golden opportunity if you want to start your own face yoga practice.
There are 7,3 billion people in the world, and most of them are completely stressed out and looking for (natural) solutions that will help them improve their well-being, health, and help them age well. What better way to do that than with face yoga?
At Glowinface we have so many inquiries we can't handle it by ourselves anymore. That's why we're giving you the opportunity of a lifetime – to combine your passion and ambition to create a job of your dreams and help people around the world.
Nothing is more fulfilling and beautiful than turn your passion into a business that changes other people's lives. In our teacher training, you'll be learning everything about face yoga, face anatomy, Chinese medicine, face mapping, and how to start making business with confidence and pride. We'd also like to point out that you can attend this training even if you don't want to become a face yoga instructor. You can do it simply to deepen your knowledge about this subject.
HOW DOES INSTRUCTOR TRAINING LOOK LIKE?
This is an online program with 30 hours of training. Karin will work with you every second weekend for 3 hours straight to teach you how to start teaching face yoga step-by-step.
You will also get a workbook with more than 80 pages, numerous worksheets for practice and access to session recordings in case you can't attend live.
You will also welcome you to our private Facebook group and Glowinface community, which will help you spread your wings and support you during your journey. It doesn't matter how old you are or what is your educational background. The only thing you need to do before applying is to finish our basic or individual face yoga course. You already need to know the exercises by heart because we'll build our training around them from session 1.
WE START OUR FACE YOGA INSTRUCTOR PROGRAM THIS FALL: APPLY HERE