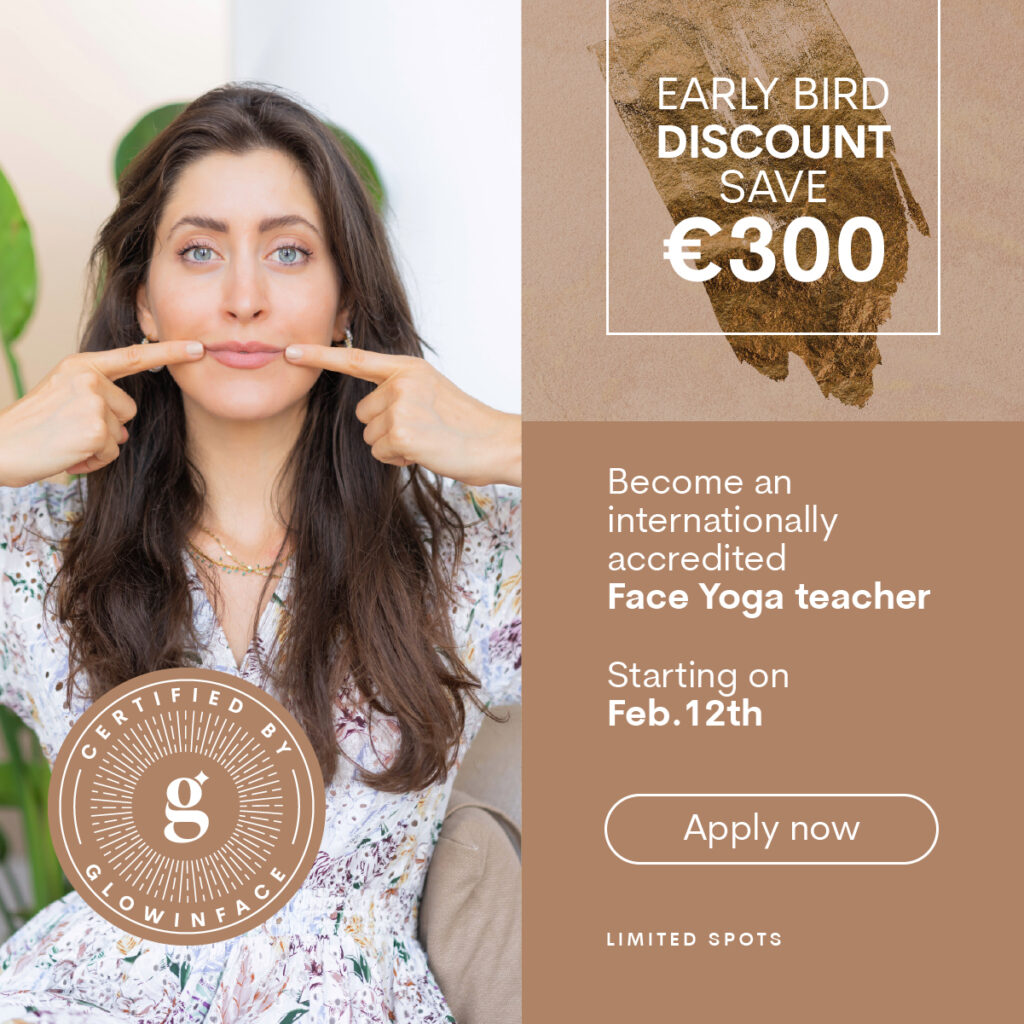 I know the idea of Becoming a Face Yoga teacher might seem a bit scary and "off road" but In today's blog I would like to tell you why you should take this opportunity and join us on the exclusive teacher training.
The upcoming teacher training starts on February 12th 2023  and you can be a part of it.
So, what are the 10 reasons you should join?
1. Anyone can join
To start off, this teacher training program is welcoming everyone. No matter if you're working in the beauty / wellness industry already or you're a complete "newbie". In this training we'll presume you're all hearing about Facial Anatomy (and all other topics) for the very first time – making sure you understand every part of it.
*The only prerequisite to join us is to complete the Beginners program as we want your facial muscles to be activated and ready for advanced learning. If you're joining "last minute" and don't have the Beginners program you can still get it and start as we'll be starting to move our face in the practical part (our 5th session).
2. You can join even if you want to just deepen your knowledge 
We're keeping our doors open for everyone – also for you who want to learn deeper knowledge and personalize face workouts for yourself.
Becoming a (good) Face Yoga teacher is a journey. You might know you wanna become one straight away, or you're like me who wanted to learn all the details for myself and all of a sudden decided to spread this super potent technique on.
3. The Face Yoga Teacher training is online and in English 
This means you can join no matter where in the world you are! :) All the materials come in the English language. We make sure we use simple words so you really don't have to worry about not understanding. Also, you can always ask and Karin will be happy to answer any questions you might have.
4. Recorded online live sessions
There are not many Face Yoga teacher trainings held online LIVE. Ours is.
The first theoretical part of the training will be pre-recorded and new sessions will be opened every week so you can do them at your own pace. But 6 out of 10 sessions will be held online LIVE as Karin knows how important it is to have a personal touch especially when it comes to the practical part – Face Exercises. Karin will in the live sessions make sure you understand the topics covered in the first 4 sessions, repeat them and answer all your questions. Then true practice will start. You will be working out together and she will make sure you got the technique right. The live sessions will be super interactive as we'll provide you examples on facial form and gravitation, TCM types, Face Mapping. You will have to guess what is happening on a person's face and which exercises are most suitable for that person.
This is the only way in which you can get the best knowledge and be confident in what you teach.
5. All of the Face Yoga Teacher training materials – video & written stay with you for a lifetime
If you're not able to join the sessions online live we have great news for you! All the sessions are recorded, uploaded in the teachers group and so available for you to watch later. The materials stay with you for a lifetime so when in doubt you can always return to the materials and get all your answers there.
6. This Face Yoga Teacher training is medically supported and approved
This is the only teacher training that hosts a doctor of dental medicine – specialized in TMJ & Bruxism as a guest speaker. DMD Kulis will cover the topics of Facial Anatomy & TMD disorders. Getting your knowledge from professionals is extremely important if you want to become a good Face Yoga teacher. Not only not having enough / good education throws a bad light on you, it can also harm your clients. Please choose wisely. 
7. TMJ & Bruxism
TMJ & Bruxism are conditions you will encounter with around 80% of your clients and this is why you should know more about it. TMJ stands for Temporomandibular Joint disorders –  conditions affecting the jaw joints and surrounding muscles and ligaments. In this teacher training you will get in-depth knowledge on TMJ and most importantly how to treat your clients suffering from this condition – directly from a doctor. 
8. TCM & Face mapping
Glowinface teacher training is the only Face Yoga teacher training offering the teachings on Traditional Chinese Medicine and Face Mapping.  Based on this more than 2000 years old knowledge your face reflects the state of your wellbeing and health. Every organ is present and visible on a certain area of the face and each wrinkle crossing that area means a blockage / stagnation in the organ. Also based on the face shape, skin tone and facial characteristics Face Mapping experts can tell which organ / element is being dominant – and so what character this person has. How does this connect with Face Yoga? Every wrinkle on the face has its meaning. It can represent emotional or physical blockage. When you learn how to read the face you'll understand the "behind the scenes" of why the wrinkle is there and know how to address it differently. This makes Face Exercises way more effective and successful with not only treating wrinkles but balancing the body and spirit. I think we don't need to say how impressed your clients will be when you'll start to read their faces. 
9. Tips on how to start your Face Yoga business
In the teacher training our founder Karin shares her experience and tips on how to start your business, how to implement face yoga into your existing business and how to build a well-known brand. Starting can be hard but we have your back. Karin will share her own journey and techniques that work – and those that she experienced does not – so you don't have to go through the same mistakes. You will learn best practices on how to do presentations, workshops, courses, 1-1 training, how to do your marketing and mind blowing presentations. We got you covered.
10. Exposure on Glowinface website and social media
After passing the oral exam you will receive our internationally accredited certificate which will allow you to teach anywhere in the world. You will also be added to our website under the GF instructors section and will be able to add your website and contact so people can reach out to you. We're all about helping you thrive and gain recognition – this is also why we will give you the opportunity to join our founder Karin on Instagram live where you'll get the opportunity to present yourself and your work + let people know where they can find you to 118k Glowinface followers.
This training will give you new knowledge and possibilities to transform your face and the face of many. 
Now, more than ever before,  people gravitate towards natural approaches on wellbeing, health and graceful aging. Yet the fact is more than 70% of people haven't yet heard of Face Yoga. Can you imagine how much work there still is for you? Your possibilities to succeed are ENDLESS. 
What are you waiting for? :)